Also Known As:
theanine, L-γ-glutamylethylamide, N5-ethyl-L-glutamine, gamma-glutamylethylamide, r-glutamylethylamide
Helps With:
boosts cognitive function, lowers stress, promotes a balanced metabolism, better sleep, & Calm Alertness (works amazing when paired w/ caffeine!)
Dosing:
Between 100-200 mg twice or thrice a day (1200 mg is the upper limit)
Half-Life
l theanine half life is Approx: ~ 45 minutes up to ~ 2 hours
Who knew what sipping a cup of green tea could do for the brain! L-Theanine is now recognized as the amino acid with nootropic potential!
L-Theanine was found in green tea and Gyokuro leaves circa 1949-1950.
Further studies revealed that L-Theanine is not only a constituent of green tea but also that of black (Camellia Sinensis) and white tea.
It has two enantiomers; the L-Theanine and the D-Theanine – the former being a deeper subject of interest to scientists due to its nootropic potential.
*For convenience purposes, the use of the word Theanine applies to L-Theanine throughout this article
Theanine is also found in Xerocomus Badius mushrooms.
Its umami taste has been loved by many around the world and has hence remained a popular beverage internationally.
Theanine possesses the power to cool and calm your mind within 35-40 minutes after crossing the blood-brain barrier!
The best part about Theanine is that it does not include crash-like effects, the one you would experience after the intake of caffeinated beverages.
Backing Claims With Science – Proof That Theanine Works!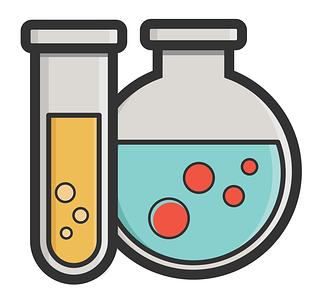 A randomized controlled trial was conducted amongst 30 individuals that did not have any history of psychological disorders.
After four weeks, the trial group that received Theanine represented the lot with better outcomes!
Not only did they notice an improvement at tackling stress but also a significant boost in cognitive function!
Theanine also extends its benefits over to the bigger picture!
It helps you stay fit and smart by promoting a balanced metabolism – this may also result in weight loss!
l theanine for sleep
Theanine sleep? Yes, it might help you sleep better due to the increase in alpha brain waves.
A lot of people wonder how Theanine promotes sound sleeping habits.
When used in combination with GABA, Theanine synergizes with the former to dampen sleep latency and also configures pathways for better NREM sleep.
l theanine before bed
Sleep latency is the amount of time it would take you to fall asleep, in case you didn't know!
The power of Theanine is being studied to establish it as a candidate for the treatment of psychological orders like Generalized Anxiety Disorders, Schizophrenia, and Major Depressive Disorder.
Theanine makes a really good duo with Caffeine – together they can promote tranquility with a punch of wakefulness!
Keep reading…, because I am going to share some great supplements that combine caffeine and l-theanine together to make the ultra "calm and focused" energy nootropic!
Calm AND focused energy?  Yep!
That's what this powerful, yet super simple nootropic duo stack does!
(And it does it VERY well!)
Amongst its operating pathways, one also involves the release of neurotransmitters that dampen excitatory activity in the brain.
It acts on Glutamate receptors to prevent hyperexcitation and exhaustion of the human body and brain.
Glutamate is an excitatory neurotransmitter of the nervous system.
Theanine also volumizes the levels of neurotransmitters that promote peaceful and relaxing vibes – such as Serotonin and Dopamine.
What Is The Proper L Theanine Dosage?
It is best if you consume 100-200 mg twice or thrice a day.  Although many people choose to take 400 mg l theanine once or twice per day.
1200 mg is deemed as the upper limit of consumption.
We'll also talk about stacking Theanine for maximum potential!
What Are The Benefits Of Taking Theanine As A Nootropic?
Promotes Serenity And Reduces Anxiety
Perhaps the most pronounced function of L-Theanine!
Accentuates The Levels Of Alpha Brain Waves
To give your mind an essential 'breather'.
Elevates The Mood And Boosts Memory
Especially when taken with caffeine.
It works by enhancing the cerebral blood flow!
May Improve Sleep Quality
This mechanism is associated with the encouragement of Alpha Brain Wave production.
May Reduce Blood Pressure
Especially the blood pressure that rises due to stress.
May Promote Weight Loss
When taken in the form of green tea!
Side Effects Of L-Theanine
It is to be noted that this amino acid is all natural – hence deemed safe for daily consumption and use!
It is very safe but a series of common side effects such as headache or dizziness may arise.
So, as far as side effects (or cons) to taking theanine?  There really aren't any major ones at all! 
It's a relatively safe nootropic substance.  It just depends on how each individual person responds to it.
Warnings/Interactions Of L-Theanine – Is It Safe?
L-Theanine is extremely safe – even at higher doses its effects remained subtle.
However, since it has the ability to lower blood pressure so individuals with hypotension should watch out for this.
Your blood pressure could go too low in that case.
On a lighter note, even younger individuals can take green tea in moderate amounts!
Where Can I Buy L-Theanine?
L-Theanine is one of those ingredients that you can find literally anywhere!
Over the counter, in stores, and of course online!
It is also sold on Amazon.
Stacking L-Theanine For Synergy!
Perhaps the best ingredient to stack with L-Theanine is Caffeine!
The main difference between the two of them is that caffeine causes generalized stimulation of the nervous system whereas L-Theanine acts selectively.
Using caffeine alone results in a crash-like state which makes you exhausted and worn out.
Stacking the two of them together brings out the best of both worlds!
Not only do you get a boost of cognition and memory, but also a bolt of energy and stimulation!
And the chances of you having that awful crash are reduced too!
Stacking can be expensive, but this stack in particular is very easy to achieve and economical too!
Another option to look into would be ashwagandha.
What Are Some Products / Supplements That Contain L-Theanine In Their Ingredients List?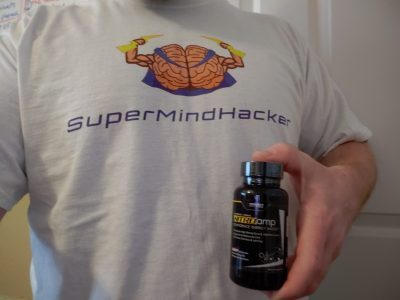 If you're looking for the ultimate stack between L-Theanine and Caffeine, then this is it!
This stack consists of only two ingredients that synergize harmoniously with one another in the perfect ratio!
The best part is that they use Guarana powder as their source of Caffeine – since this is a natural extract, it won't result in any crash!  If calm and focused energy sounds great to you, definiteky pick up a bottle of NitroAMP!
You can Buy NitroAmp Here
Still not convinced?
Read our full NitroAmp Product Review Here!
Qualia Mind is a premium stack formula that pairs up L-Theanine with caffeine along with some other very potent nootropics!
This is a VERY jam-packed formula, bound to deliver results fast, bvut it's also one of the more expensive ones!
Mind Lab Pro is a very well-known supplement in the cognitive enhancement world.  Everyone familiar with nootropic stacks has come across this hyped up nootropic stack!
It does not pair L-Theanine with caffeine, but uses Citicholine instead!
This promotes memory and cognition whilst maintaining your stress levels!
Another reputable brand with a large customer base.
Double Wood's also sells a variety of individual supplements at pocket-friendly prices!
My Final Thoughts on L-Theanine as a Nootropic Ingredient…
L-Theanine is a great natural source of antioxidants which comes with the amazing capability of toning down the nasty effects of stress and anxiety.
One of the best ways of incorporating this amino acid in your diet is via green or white tea – which you can easily sip off during the day or night for a refreshing treat.
It is my personal recommendation to spice up the flavor and instill synergy into your beverage with a bit of caffeine – this drink might just become your all-time favorite refresher!
If you are suffering from hyper/hypotension, please do keep a check and balance on your consumption or consult your physician shall the need arise.